Eternal Tomorrows
Home of Bella's Truck for Charity: Currently Under Construction
Hey Everybody,
My name is Sterling. I'm a HUGE Twilight fan! I own the 1962 Chevrolet, C-10, Pickup Truck used as Bella Swan's truck in the famous film Twilight. Now here is where it gets really cool (WARNING: bystanders, be prepared to plug ears as a result of fan screams

)! For a small donation to one of my select charities, that all help children, you can have this truck come to your party or event, you can sit in it, and you can take pictures with it. On this website you will find information about me, my truck, and other Twilight fans. I encourge you to explore this website further, meet new people, learn new things, and spread the word. Visit as often as you like. And remember, it's all for a good cause.
My Goals
My major goal is to create my own charity called "Eternal Tomorrows" and with it I want to help as many people as possible with a large variety of causes. Maybe I will find a way to come into possession of many vehicles from movies/tv. I would make sure the vehicles were from all different genres of film to encourage a wider variety of people to donate. Currently my charity is starting small in the Lewisville/Flower Mound area. So a small goal is to expand to different areas in Texas, and then hopefully later it will expand throughout the country, and eventually I would like my charity to reach out to all parts of the world (but that is another big goal). I'm taking it all one step at a time and hoping for the best.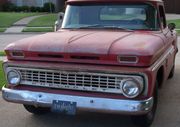 NEW BLOG ENTRY
Need Someone to Plan Your Twilight Event/Party?
We also offer party planning services. More details coming soon!